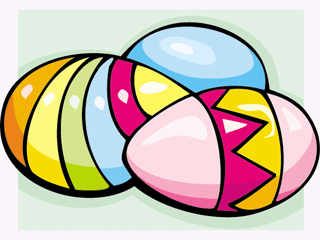 After Easter Ideas
Bacon Deviled Eggs:
6 hard cooked Eggs
2 tablespoons of Miracle whip
1 tablespoon of French Dressing
1/2 teaspoon dry mustard
1/4 teaspoon lemon-pepper seasoning
3 slices of bacon cooked and crumbled into small pieces.
Slice eggs in half lengthwise. Remove yolks and mash with a fork. Stir in rest of the ingredients. Stuff eggs with the mixture. Enjoy a different version of a spring classic.
Honey Ham Pie:
3 tablespoons finely chopped onion
1/4 cup finely chopped green pepper
1/4 cup butter melted
1/4 cup of all purpose flour
1/4 teaspoon pepper
2 cups milk
1 (10 3/4 ounce) can of cream of chicken soup undiluted
3 cups of chopped ham
1 tablespoon lemon juice
Cheese biscuits
Sauté onion and green pepper in butter until tender. Then add flour and pepper and cook 1 minute, while stirring constantly. Gradually add milk and soup. Cook over medium heat while stirring constantly. When mixture is thick and bubbly, Stir in the ham and lemon juice.
Pour ham mixture into a lightly greased 12 x 8 x2 inch baking dish. Bake at 350 for 30 minutes. Top casserole with cheese biscuits. Bake an additional 20 minutes or until biscuits are golden brown. Serves 6.
Cheese biscuits:
1 cup all purpose flour
1 1/2 teaspoon baking powder
1/2 teaspoon salt
2 1/2 tablespoons shortening
3/4 cup of shredded cheddar cheese
1/3 cup of milk
Combine first 3 ingredients; cut in shortening until mixture is crumbly. Stir in cheddar cheese and milk and mix until blended. Turn dough out on a lightly floured surface and knead lightly 4 or 5 times. Roll dough to 1/4 inch thickness and cut with a 2/ 1/2 inch biscuit cutter.
---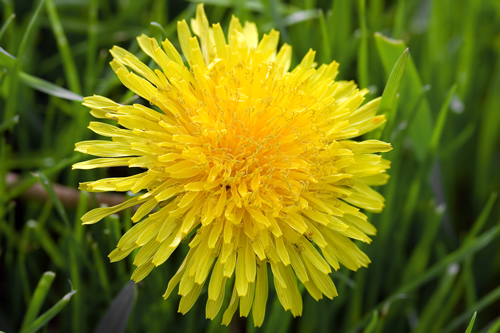 Dandelion Season
Dandelion dishes
by
Adeline Cornwell
Class of 1937
Dandelion Salad:
Pick fresh lender leaves of dandelion before they flower. Wash 2 quarts of dandelion leaves. Put into hot bacon grease to wilt. Pour a little bit of vinegar over them. Break pieces of cooked bacon and mix with the dandelions.
Dandelion Tea
Tea: To brew this home remedy for gas and constipation, just put an ounce of chopped leaves into 1-14 pints of boiling water, then add a twist of lemon and sweeten to taste.
---

Never Fail Baked Custard
by
Katherine Stagge Marr
Class of 1936
Ingredients:
5 eggs
1 quart milk
5 heaping tbsp. sugar
1 tsp. vanilla
Directions:
Heat milk and separate eggs. Cream egg yolks and sugar thoroughly. Add heated milk slowly. Beat egg whites until foamy but not too stiff. and then fold into mixture. Add vanilla. Pour into casserole and set in pan of hot water. Bake slowly in 325 degree oven. The custard is done, when an inserted knife comes out clean. Serve 6.

Chicken Salsa Soup
by
Susan Hines
Class of 1968
Ingredients
4 skinless, boneless chicken breast halves
1 (16 oz jar or larger ) salsa or picante sauce
2 tsp garlic powder
1 tsp ground cumin
1 tsp chili powder or Emeril's seasoning salt (to taste)
ground pepper to taste
1 (11oz) can Mexican-style corn
1 ( 15 oz) can pinto beans
1 can of any other type of bean-white or black
2 cans of chicken broth or stock
Toppings for individual choices: shredded cheese, Fritos, tortilla chips, etc.
Directions
1. Place chicken and salsa in the slow cooker the night before you want to serve the soup. Season with garlic powder, cumin, chili powder, salt and pepper. Cook 6-8 hours on low setting.
2. About 3-4 hours before you want to eat, shred the chicken with two forks. Return the meat to the pot and continue cooking.
3. Drain and rinse all the canned items. Stir the corn and pinto beans into the slow cooker. Simmer until ready to serve