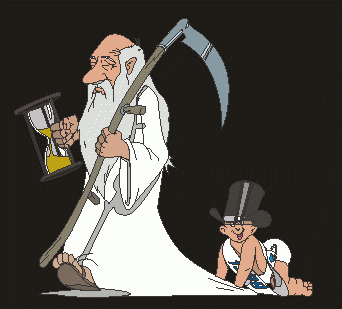 Pepperoni Dip
by
Debbie DeBord
Class of 1980
1 can regular size Cream of Mushroom soup
1 regular size packet of cream cheese (block, not wipped)
1 packet of sliced pepperoni
I use pumpernickel bread and cut it into dipping size pieces
Preheat oven to 350 degrees
Empty the can of Cream of Mushroom soup and the block of cream cheese into a 8x10 non stick baking dish. Cut the pepperoni up into 1/4 pieces. Mix all three ingredients together.
Place into oven. As it cooks, the cream cheese softens and you can continue to stir until all the ingredients are mixed together. Continue to cook until you see the grease from the pepperoni rise to the top. Do not cover the dish in oven. Continue to stir grease into the mix. Should take about 20 + minutes to cook. Take out of oven and take your favorite bread and dip it and eat. Yummmmmmmm.
You can increase everything by 1 to make a larger dish. Even if you do not like mushrooms, you can't taste them in this dish. this is a very simple , tasteful dish that you can not stop eating and will get compliments on it.
French Bread Sausage Roll
by
Janice Sullivan Kannenberg
Class of 1980
1 Can of Pillsbury French Bread
1 lb of your favorite sausage roll
8 oz of cream cheese
Brown the sausage in a pan. Drain any excess oil. Add the cream cheese and blend together. Let cool somewhat because it makes it easier to roll the dough.
Open up the French bread dough with some flour on your hands, making it easier to handle.
Unroll the dough and secure the seams by pressing them together.
Spread the sausage and cream cheese combination over the French bread.
Roll up the dough starting at the longest side.
Bake according to the instructions on the French bread dough tube.
Slice crosswise and serve.
You can add mushrooms, onion, gren peppers or whatever else you would like.
______________________________________________________________________________________


Mississippi Mud Cake
by Carolyn and Carla Green
Cake Ingredients Icing Ingredients
2 sticks butter at room temperature 1 box powdered sugar
4 eggs 1 tsp vanilla
1 can coconut 1/2 cups milk
1 tsp vanilla 1/2 cups butter
2 cups sugar 1/2 cups cocoa
2 Tbsp. cocoa
1 1/2 cups pecans or walnuts 1 Jar of Marshmallo Cream
1 1/2 cups flour
Grease and flour pan. Bake at 350 degree for 35 minutes. While hot, spread with marshmallo cream. Let cool and spread on icing.
Dirt Cake
by David Poe
2 ( 1 lb.) bags Oreo cookies 1 (12 oz. Cool Whip
1 (8 oz.) cream cheese, softened 2 (3 oz. ) boxes French vanilla instant pudding
1 cup powdered sugar 3 1/2 cups milk
1 stick of butter, softened Hand full of gummy worms and a plastic flower
Crush the cookies into fine crumbs in blender and set aside. Mix the softened cream cheese, butter and powdered sugar. In separate bowl, mix pudding and milk. Combine the two mixtures in a large bowl . Add Cool whip. Layer dirt cake in a large bowl or flower pot by alternating layers of cookies and pudding, starting and ending with cookies. Insert gummy worms in layers and crawling from pot. Insert plastic flower for added decoration if desired. Refrigerate before serving.
David brought this to a teachers luncheon and it was a big hit at the high school.