---
Cook's Corner
Cook's Corner is a place to exchange favorite recipes of people who have attended, taught, worked, graduated or have children who graduated from Goshen Schools. We would be honored if you would give us a copy of your favorite recipes. We have already collected quite a few from graduates, teachers and the cooks from Goshen Local Schools.

Please send your recipes

to the webmaster to have them included on this web page.
---
RODNEY'S SHRIMP CREOLE
by
Rodney Croley
GHS History Teacher
1964-1983
Diane Wheeler, a former Home Economics teacher gave Rodney
this recipe but over the years, he's made it his own.
2 tbs butter
1/4 cups onion chopped
1/4 cup green pepper
1tbsp flour
2 cups (1 lb can) tomatoes (Rod likes Red Gold)
1 pound of cooked , clean shrimp
1tbsp lemon juice
2 tbsp minced parsley
1/2 teaspoon Worcestershire sauce
1/2 teaspoon salt
1/4 cup chopped celery
dash of pepper and thyme
Original recipe called for 1/2 cup of buttered bread crumbs but he doesn't use them.
Melt butter in sauce pan, saute onions and celerery and green peppers until tender. Stir in flour. Chop up tomatoes into small pieces and remove cores. Add the tomatoes and liquid. Cook and stir constantly until mixture thickens. Add Shrimp, parsley,l emon juice W. Sauce, salt, pepper and thyme. Serve over cooked rice.
To cook shrimp: Bring water to boil and then add shrimp until water starts to boil again. Remove from heat, Cover and let stand for 6 minutes before adding to mixture.
Diane's instructions were to spoon the mixture into 4 buttered individual baking dishes and top wtoh bread crumbs. Bake at 350 for 15 to 20 minutes. Either way, this dish is delicious.
---



Fresh Salsas


FRUIT SALSA MANGO JALAPENO SALSAS SWEET CORN SALSAS
FRUIT SALSA
1/4 RIPE PINEAPPLE, PEELED, CORED AND CUT INTO 1/4 INCH PIECES
3 LARGE RIPE KIWIS, PEELED AND CUT INTO 1/4 PIECES
1 RIPE PAPAYA, PEELED, SEEDED AND CUT INTO 1/4 PIECES
1 MANGO PEELED, CORED, SEEDED AND CUT INTO 1/4 PIECES
2 TOMATILLOS, CUT INTO 1/4 INCH PIECES
2 SHALLOTS, FINELY CHOPPED
2 LIMES ZESTED
1/4 CUP LIME JUICE
1/2 TEASPOON MINCED JALAPENO
4 TABLESPOONS CHOPPED FRESH CILANTRO
2 TABLESPOONS OF SUGAR
SALT TO TASTE
MIX ALL THE INGREDIENTS IN A BOWL. CHILL FOR ONE HOUR. SERVE COLD
MANGO JALAPENO SALSA
4 MANGOS FIRM BUT NOT OVER RIPE AND CUT INTO 1/2 PIECES
1 MINCED JALAPENO
2 LARGE CUCUMBERS, PEELED, SEEDED AND CUT INTO 1/2 PIECES
2 RED BELL PEPPERS DICED INTO 1/2 INCH PIECES
1 SMALL RED ONION PEELED AND CUT INTO 1/2 INCH PIECES
1 TABLESPOON MINCED FRESH GINGER
1/4 CUP OF FINELY CHOPPED CILANTRO
JUICE OF ONE LIME
2 TABLESPOONS OF LIGHT BROWN SUGAR
2 TABLESPOONS OF ORANGE JUICE
MIX ALL THE INGREDIENTS IN A BOWL. CHILL FOR ONE HOUR. SERVE COLD
SWEET CORN SALAS
2 EARS OF VERY FRESH CORN
2 RIPE TOMATOES
1 SMALL DICED RED ONION
3/4 CUP DICED RED BELL PEPPER
2 MINCED JALAPENOS
2 TEASPOONS PUREED CANNED CHIPOTLE CHILES
JUICE OF 2 LIMES
ONE TABLESPOON OLIVE OIL
1/4 CUP CHOPPED CILANTRO
SALT TO TASTE
REMOVE HUSK AND SILK FROM THE CORN AND RINSE THE EARS. SIMMER THE CORN IN BOILING WATER FOR 2 MINUTES, DRAIN AND PLUNGE EARS INTO COLD WATER. CUT THE KERNELS OFF THE COBS. DICE THE TOMATOES INTO SAME SIZE AS THE ONIONS AND BELL PEPPERS.
COMBINE THE CORN WITH THE DICED VEGETABLES. STIR IN THE CHIPOTLE PUREE, LIME JUICE , OLIVE OIL, CILANTRO AND SALT. SALSA HEAT CAN BE ADJUSTED BY REMOVING OR ADDING THE JALAPENO SEEDS TO THE MIX.
---

Drunken Orange Sweet Potatoes
8 medium sized sweet potatoes
1 cup firmly packed light brown sugar
2 tablespoon cornstarch
1/2 teaspoon salt
2 teaspoons grated orange rind
2 cups orange juice
1/4 cup of bourbon
1/4 cup plus 2 tablespoons butter
Cook sweet potatoes in boiling water 20 minutes or until almost tender. Drain and cool. Peel potatoes and slice crosswise into 1/2 inch slices. Arrange slices overlapping in a 13x9x2 inch greased baking dish.
Combine brown sugar, cornstarch and salt in a heavy sauce pan; add orange rind and juice. Cook over medium heat, stirring constantly until thickened. Remove from heat and stir in bourbon and butter; pour over potatoes. Bake, uncovered at 350 degrees for 15 minutes or until tender. Serves 8.
Turkey Pot Pie
`2 (10 3/4 ounce ) cans chicken stock
2 bay leaves
1/2 teaspoon white pepper
2 cups cubed potatoes
1 (16-ounce ) package of frozen vegetables
2 chopped stalks of celery
3 tablespoons of butter
3 tablespoons of all purpose flour
3 cups cubed cooked turkey
9 inch pie crust
Combine stock, bay leaves and pepper in a large Dutch oven and bring to a boil. Add potatoes, cover and reduce heat to medium. Cook for five minutes. Add vegetables and return to a boil. Cover, reduce heat and simmer for 10 minutes. Remove bay leaves. Drain and set aside, reserving the broth.
Melt butter in a Dutch oven over medium heat. Add flour and stir until smooth. Continue to cook and stir for one minute to get rid of raw flour taste. Gradually add reserved broth and stir until mixture is thickened and bubbly. Stir in vegetables and turkey. Spoon mixture into 2 1/2 quart casserole. Place crust over turkey mixture and trim and seal. Cut slits in top of pie. Bake at 400 degrees for 20 minutes or until crust is golden brown.
---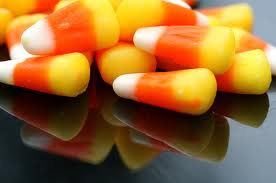 Candy Corn Fudge
1 bag (12 oz) melted white vanilla baking chips
2 cans (16oz) vanilla ready to spread frosting
1 bag (10oz) melted butterscotch chips
Yellow and Red food coloring
48 pieces of candy corn
Line a 13x9-inch pan with foil and then butter foil. In large bowl, mix the vanilla baling chips and one can of frosting until well blended. Spread 1/3 of mixture evenly in the pan.
In another large bowl, mix the melted butterscotch chips ant the second can of frosting. Stir in 1/2 teaspoon yellow and 1/2 teaspoon red food coloring. Mix until well blended. Spread the orange mixture over the white layer in the pan.
The remaining white mixture can be warmed up in the microwave for one minute on medium high if it has set up. Stir mixture and add 1/4 teaspoon yellow food coloring . Spread over orange layer in the pan. Refrigerate until firm (about an hour).
Use the foil to lift candy from the pan. Turn white side up and peel off the foil. Cut into 8 rows by 6 rows. Press 1 piece of candy corn into center of each piece of fudge. Store in refrigerator.
---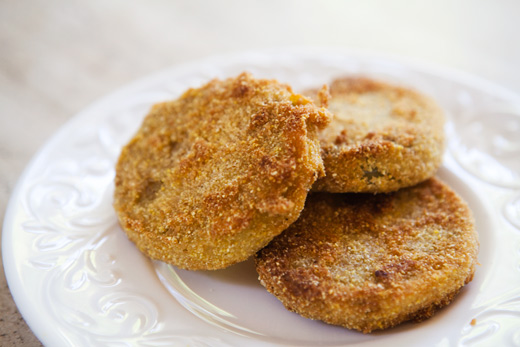 Fried Green Tomatoes
Fried Green Tomatoes
3 medium firm green tomatoes
1 cup all purpose flour
1/3 cup of cornmeal
1 egg
1/2 cup of milk
1/4 cup of vegetable oil
1 tablespoon of salt
1 tablespoon of pepper
1 teaspoon of red pepper or cajun seasoning if you like it spicy!
Cut unpeeled tomatoes into 1/2 inch slices. Place flour, cornmeal and spices in shallow bowl and mix well. Beat egg and milk together in another shallow bowl.
Heat the oil in a skillet or electric frying pan on medium heat. Dip the tomatoes in the egg and milk mixture and then into the cornmeal and flour mixture. ( An alternative method is to just dip the sliced tomatoes into water and then coat with cornmeal and flour mixture). Fry 3-4 slices at a time for 3-5 minutes or until golden brown. Place cooked tomatoes on paper towels to drain. Enjoy!
---
Bacon Biscuit Puffs
1 (8oz) can refrigerated biscuits
2 cups (8oz) grated cheddar or Swiss cheese
1/2 cup mayo
1 small onion chopped
1 (3oz) jar of bacon bits
2 tablespoons of sugar
1/4 to 1/2 teaspoon garlic salt
5 drops of hot pepper sauce
Separate each biscuit into 3 pieces and place on baking sheet.
Combine all ingredients and mix well. Place spoonful of mixture and spread evenly over each biscuit. Makes about 30. For variety, you can replace bacon with red pepper and 1/2 cup of basil.
Bake at 350 for 10 minutes or golden. Makes
---
Cucumber Stuffed Tomato
6 medium tomatoes
1 small cucumber cut into !/2 inch pieces
1/3 cup of mayo or salad dressing
1 clove of garlic crushed
1 tablespoon snipped parsley
Dash of salt
6 Lettuce cups
Remove stems from tomatoes and cut thin slice from bottom.
Remove pulp, drain and reserve pulp. Invert tomato shells on paper towels. Refrigerate for 2 hours.
Finely chop reserved tomato pulp and drain. Stir in Cucumber, mayo, garlic, parlsey and salt.
Cover and refrigerate at least two hours.
Just before serving, arrange in lettuce cups and fill the tomato with cucumber mixture. Garnish with parsley sprig or small cooked shrimp.
________________________________________________________________________________________

---
Recipe Archives


Test Test Test