Goshen Alumni Gift Shop
Class Photos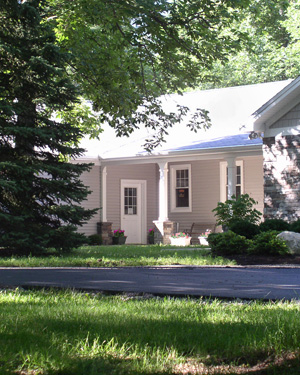 Fugett's Photography
Reproductions of class photos are now available from Fugett's Photography.
Due to the many requests from alumni for copies of class composites, Fugett Photography
has agreed to sell copies of the following years:

1925, 1926, 1927, 1928, 1929,
1930, 1931, 1932, 1933, 1934, 1935, 1936, 1937, 1938, 1939,
1940, 1941, 1942, 1943, 1944, 1945, 1946, 1947, 1948, 1949,
1950, 1951, 1952, 1953, 1954, 1955, 1956, 1957, 1968, 1959,
1960, 1961, 1962, 1963, 1964, 1965, 1966, 1967, 1968, 1969.
1970, 1971, 1972, 1973, 1974, 1976,1978,1979, 1980,1982,1983,1987
1990, 1991, 1992, 1993, 1994, 1995, 1996, 1997, 1998, 1999,
2000, 2001,
Class composites were not created from 1975-1989. The alumni association is
recreating these years from yearbooks with Dan Oliver. So far, we have reproduced
1977,1979,1980,1982, 1983, 1987.
Dan Oliver has retired and has closed down Fugett's Photography.
He is wrapping up some projects for the alumni. If you have an interest in
getting a copy of your class photo, you must contact him before the end of
September. Depending upon his time remaining before he goes to Florida, he
may be able to get you a print.
It is with a sad heart that we say good bye to Dan and his wife and thank them and
the founder Cliff Fugett for all the wonderful memories that they have
created and preserved for us and Goshen Schools.

Price Information:
8x10 are $15.00 plus shipping
11x14 are $ 25.00 plus shipping

Note: if you pick up the photos,
you may avoid a
shipping charge.

To order photos contact: Fugett Photography
9779 Morrow Woodville
Pleasant Plain, Ohio 45163

513-877-2287 or 1-877-587-5597 (toll free)
email: fugettphoto@gmail.com

or
fugettphoto.com
,

Business hours:
Tuesday through Friday - 10am to 5pm
Saturday-10am to Noon
Sunday and Monday - closed

---
Goshen Booster Newspapers
1926-1953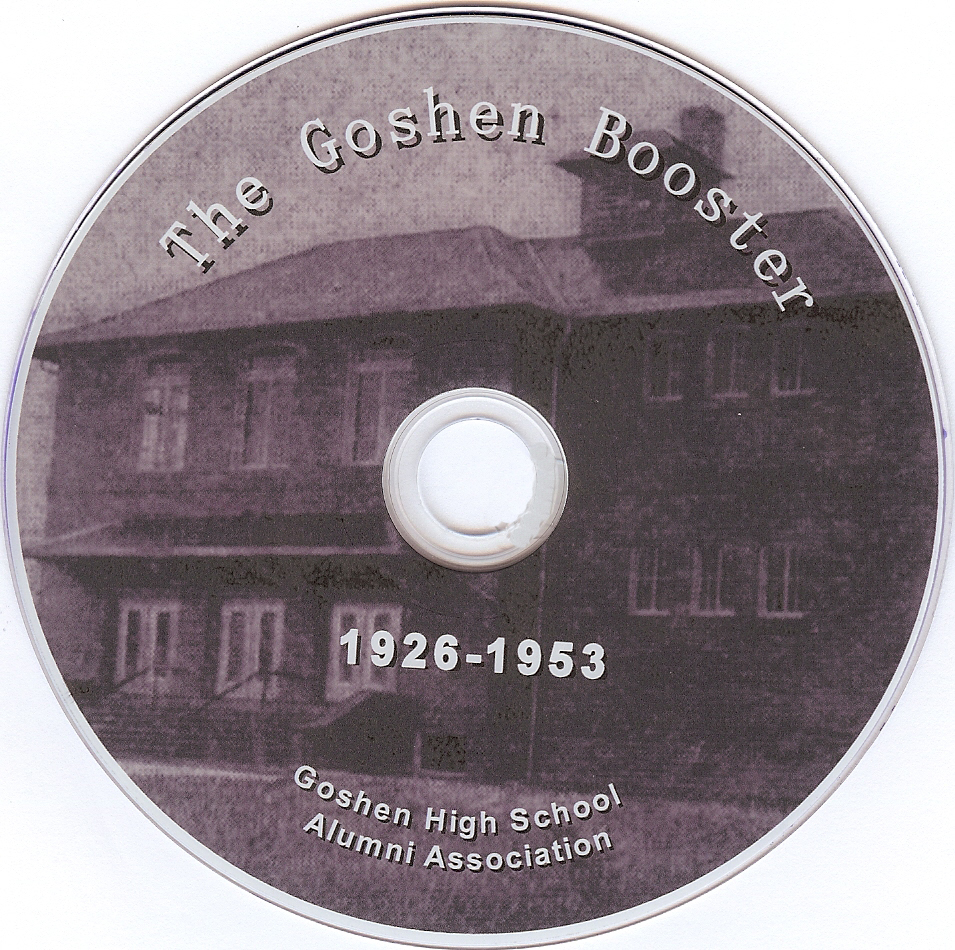 The Alumni Association has copied old school newspapers saved by Miss Cook and given to Joe Spaulding. These fragile items contain a wealth of school history and needed to be preserved. They are also funny, interesting and give a view of life of the closely knit Goshen community. The first year is printed on memograph paper and the ink is faded. Then the paper is more professionally printed. Mary Butts Jones has worked many hours to organize, edited and get some one to scan these items. Many individuals wanted to read the papers and wanted copies, so we are offering a CD for sale. The price is 20.00 for the CD if it is picked up at the high School. Hillary Ross Gatio will arrange a date to pick up the CD in the front office. If you would rather have it mailed to you, there is a $5.00 mailing fee. Please send your request and a check made out to the GHS Alumni Association and mail it to GHS Alumni,Association, P.O. Box 113, Goshen, Ohio 45122.
Click here for sample pages of the Goshen Booster
---
---
Goshen High School Collages

---
The Goshen High School Alumni Association also has collages of the three Goshen High Schools for sale. The matted collage includes the 1908-1960 Goshen High School, the 1960-2000 Goshen High School and the new 2000 Goshen High School. The matted collage is $15.00 and can be purchased by contacting Candy Meadors at candymeadors@goshenalumni.com

We also have book bags with three of the school's images printed on them. Contact Candy Meadors if you are interested in them. The bags are 16 inches in height and 14.5 inches wide with 11inch high handles. The bags are off white with black images although they appear yellowish in these photos. The price for the bags are $6.00 each.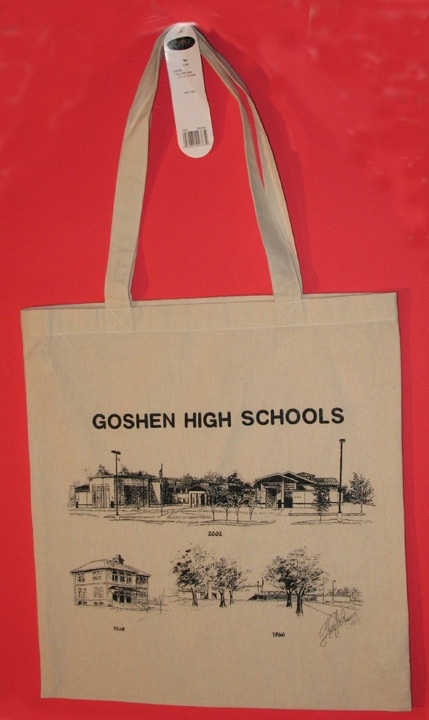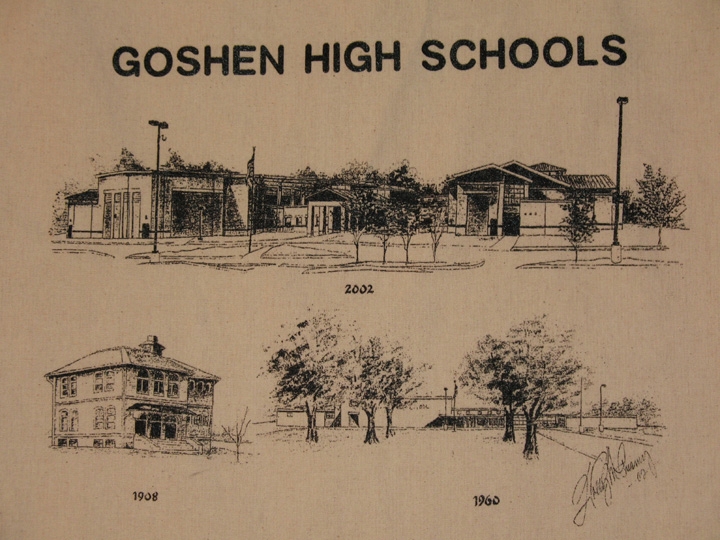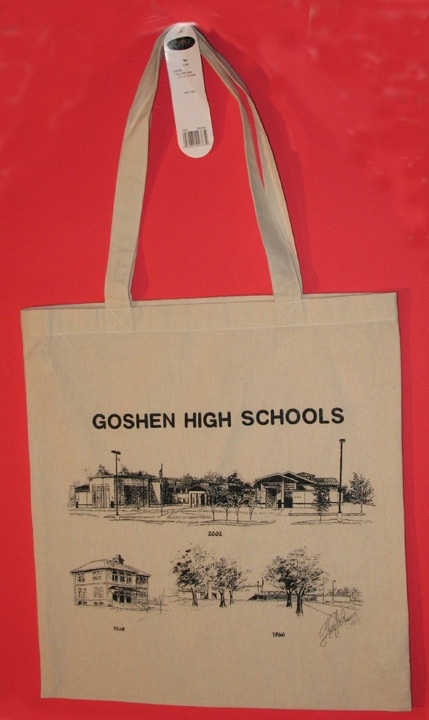 ---
---
---
---