News and Notes
---
This page is for Announcements, Requests and other Notes of Interest. We will also be listing the deaths of any of our graduates, as we become aware of their passing. If you have information that you think your fellow graduates would like to know about, please feel free to contact the webmaster@goshenalumni.com about posting it on this page.
Robert Winterberger,
Class of 1976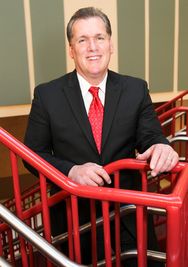 Principal retires after 28 years in Lakota
Robert Winterberger says he's loved every day.
Longtime Lakota administrator Bob Winterberger is retiring Jan. 31 after 27 years with Lakota Schools. Winterberger has served as principal at Union Elementary and also worked at Hopewell Elementary. There will be a Tribute to Bob Winterberger Night on Jan. 17 at Union Elementary. The evening will include a performance by the school's sixth-grade band, variety of guest speakers and multi-media presentations.
By
Hannah Poturalski
A "Lakota Legend" is hanging up his hat after spending his entire 28-year career serving the Lakota Local School District.
Robert Winterberger — who spent 21 years as principal at Union Elementary — will retire Jan. 31. The school is holding a formal farewell tribute event at 7 p.m. today, Jan. 17, at the school at 7672 LeSourdsville-West Chester Road.
The tribute night is open to anyone to attend, and will include a performance by the school's sixth-grade band as well as a variety of speakers and multimedia presentations from people who have known Winterberger through the decades.
"It's been a wonderful deal," Winterberger said. "This district has given me the opportunity to do anything, you've just got to reach out."
Winterberger joined the district in the mid-1980s as a seventh-grade science teacher at Hopewell Junior High School. After five years in that role, he became assistant principal at Union before taking over the helm two years later.
The Lakota community has become an extension of his own family, Winterberger said.
"The goal is to build confident, talented, capable people who can control their own destiny later," Winterberger said.
As an educator, he said there are fundamentals that will never change — such as teaching children proper manners — but that school districts are now faced with preparing children to compete globally.
"We owe it to those kids to challenge them," Winterberger said. "Kids nowadays are so bright and creative. It's a challenge to challenge them."
Ben Brown, the current principal at Union, said he served three years under Winterberger before transitioning into the top spot this year. Brown described Winterberger as having a "servant's heart," and knowing the value of every position and job within a school building.
"People just don't know the degree and depth of Bob's excellence; he's always been ahead of his time," Brown said. "He has always pushed the pedal down to get results."
Dina French of West Chester Twp. — co-president of Union's parent organization — said her children have enjoyed Winterberger's warm approach and the time he spends getting to know all the students. As a parent, French said it's refreshing to find a principal so accessible and willing to help families.
"He's everywhere for the kids … at lunch, in the classroom, during recess … and I don't know if every school can say that," French said.
Brown said he's not only found a friend and mentor in Winterberger, but an example of "true leadership."
"Bob has said we shouldn't be afraid to tell the kids we love them or give them a hug … that regardless of family life the (kids) will come to a first class place with consistent, stable adults," Brown said.
Honoring Excellence: A Tribute to Bob Winterberger
When: 7 p.m. Jan. 17
Where: Union Elementary, 7672 LeSourdsville-West Chester Road, West Chester Twp.
What: A performance by the school's sixth-grade band, a variety of guest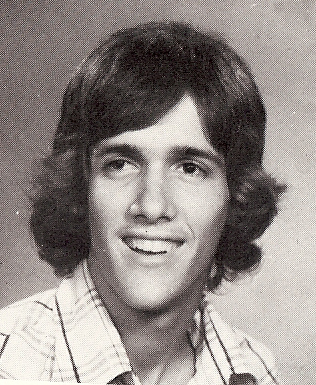 Bobby Winterberger
Class of 1976
---
Out of state alumni and any alumni going on vacation during this school year are needed!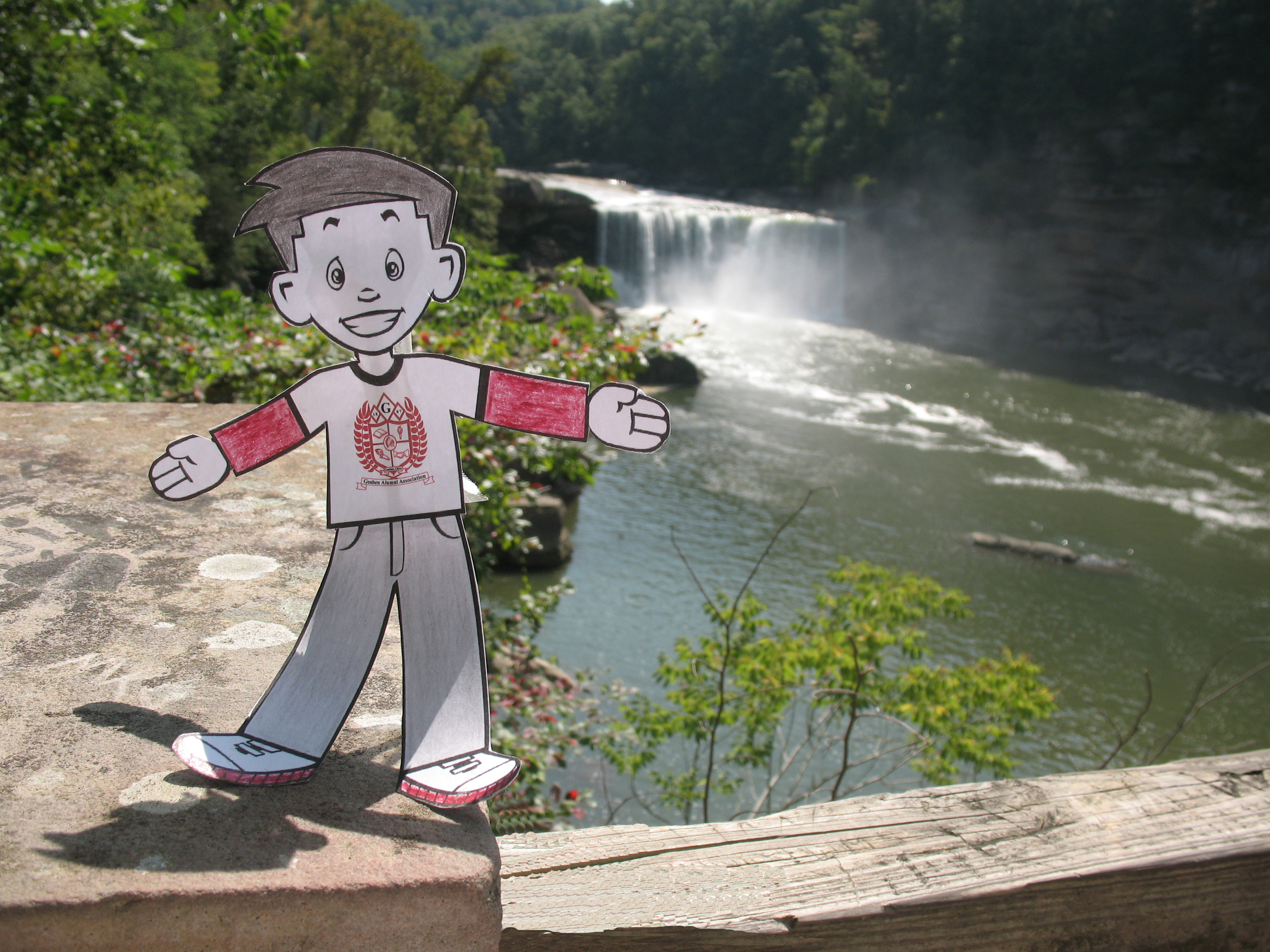 Stanley at Cumberland Falls, Ky
Spaulding Elementary School Students are working on a school wide project this year and they
need photos of Flat Stanley taken at interesting locations in other states and around the world.
Different classes will use Stanley to help with map skills, math calculations, geography, literature and history lessons.
The school year will end with a Flat Stanley Musical play produced by the music teacher . A video show
of all the Flat Stanleys submitted to the project will be projected before the play.
Please click on the Flat Stanley Alumni Template link and print out a Stanley cutout and color him in your choice
of clothing. Then take Stanley out to a famous, historical, interesting or beautiful location and
shoot a digital photo of him enjoying himself with friends, guides or alone. Identify the date, location and any
people identifiable in the photo.
Please send the photo to:
and if you want to show Stanley off, you can also send him to
Goshen High School Alumni Association facebook page.
---
Congratulations to Charles Fant Class of 1991.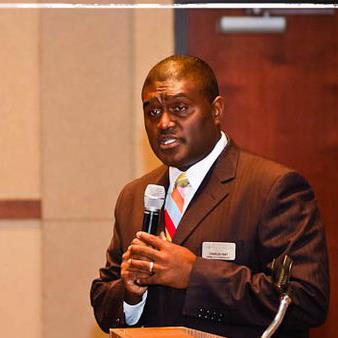 Charles is the new Football Coach at Notre Dame High School in Chattanooga TN. Charles's team won their first game of the season by a large margin. We're all so proud of this Goshen Warrior!!
We all wish you luck in the up coming season.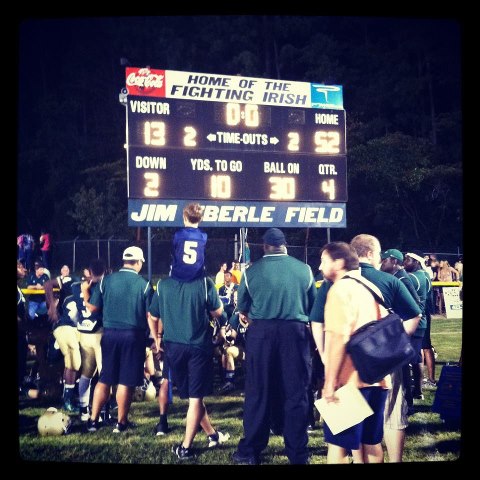 ---
We are sadden to announce that Rhonda Hoerst, the subject of the article below died December 20, 2012. She left behind a young son and husband. Tacy Fleming is creating a photo and video keepsake for Rhonda's family. If you have any photos to contribute, please contact her or Joyce Croley. A fundraiser in the spring, will be held to help her family with funeral expenses. RIP Rhonda.
Rhonda Hoerst, Class of 1995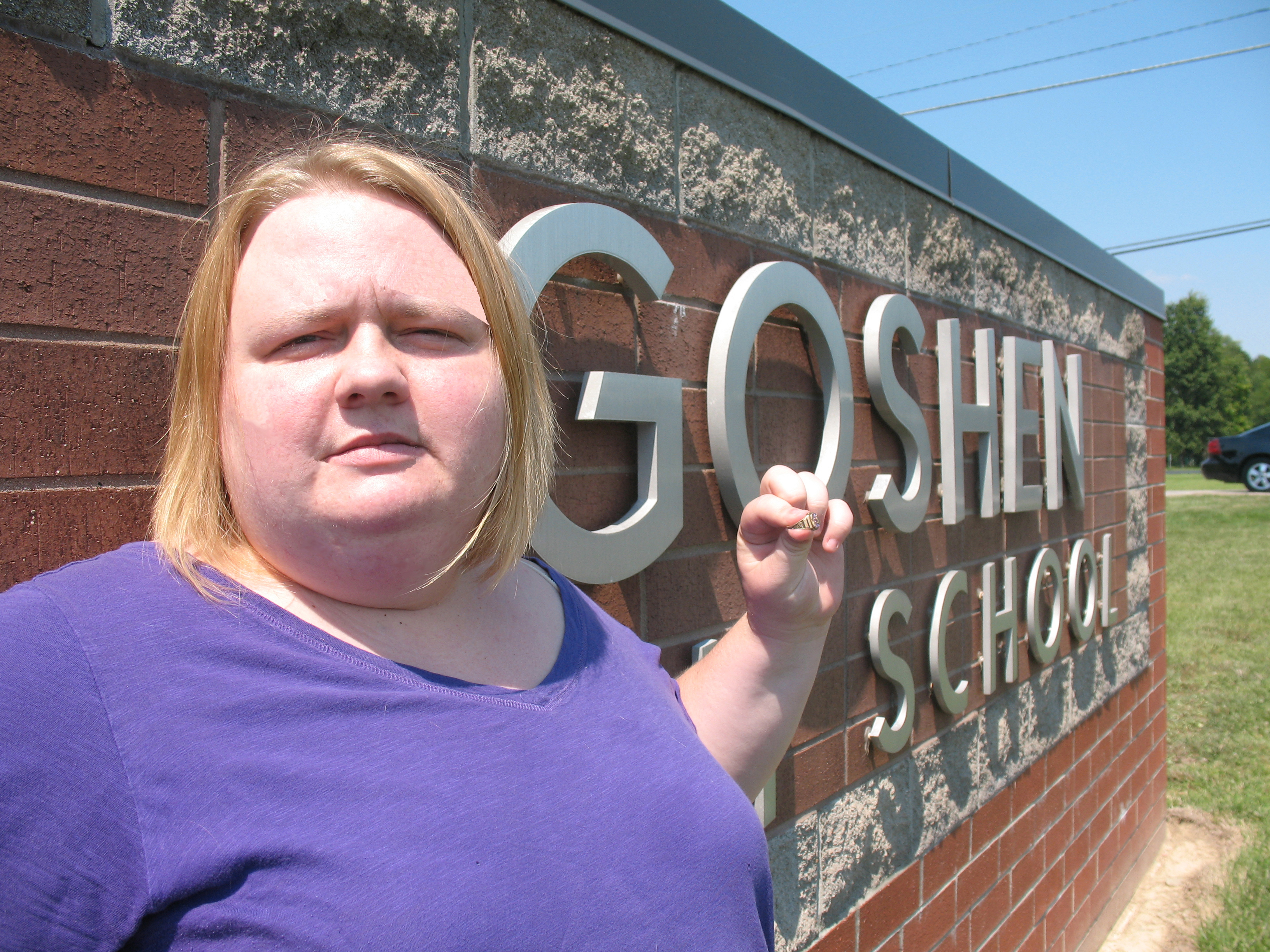 Seventeen years ago, Rhonda lost her class ring down a bathroom sink while living in Roselawn. Last month, Scott Abrams a Cincinnati Metropolitan Sewer worker saw something shiny. He picked it up and cleaned it off. It was a 1995 Goshen High School Class Ring with the initials RMH. He wanted to try and return it to it's rightful owner. His supervisor, Rahn Wuest contacted Joyce Croley to help track down the ring's owner. After some research, and some back and forth photos and emails it was decided that the ring had to belong to Rhonda Hoerst, who was still living in Goshen.
When Joyce Croley contacted Rhonda, she was shocked to hear the news. She had long ago given up hope of ever seeing her ring. Rahn Wuest mailed the ring back to Rhonda and she is extremely happy to have her ring again. Rhonda wants to thank Scott Abrams and Rahn Wuest again for their wonderful efforts. She greatly appreciates the fact that they went to such lengths to see the ring returned when it would have been so much easier to just keep the ring. Thank you again Scott and Rahn for your noble deed.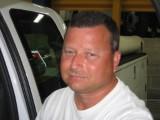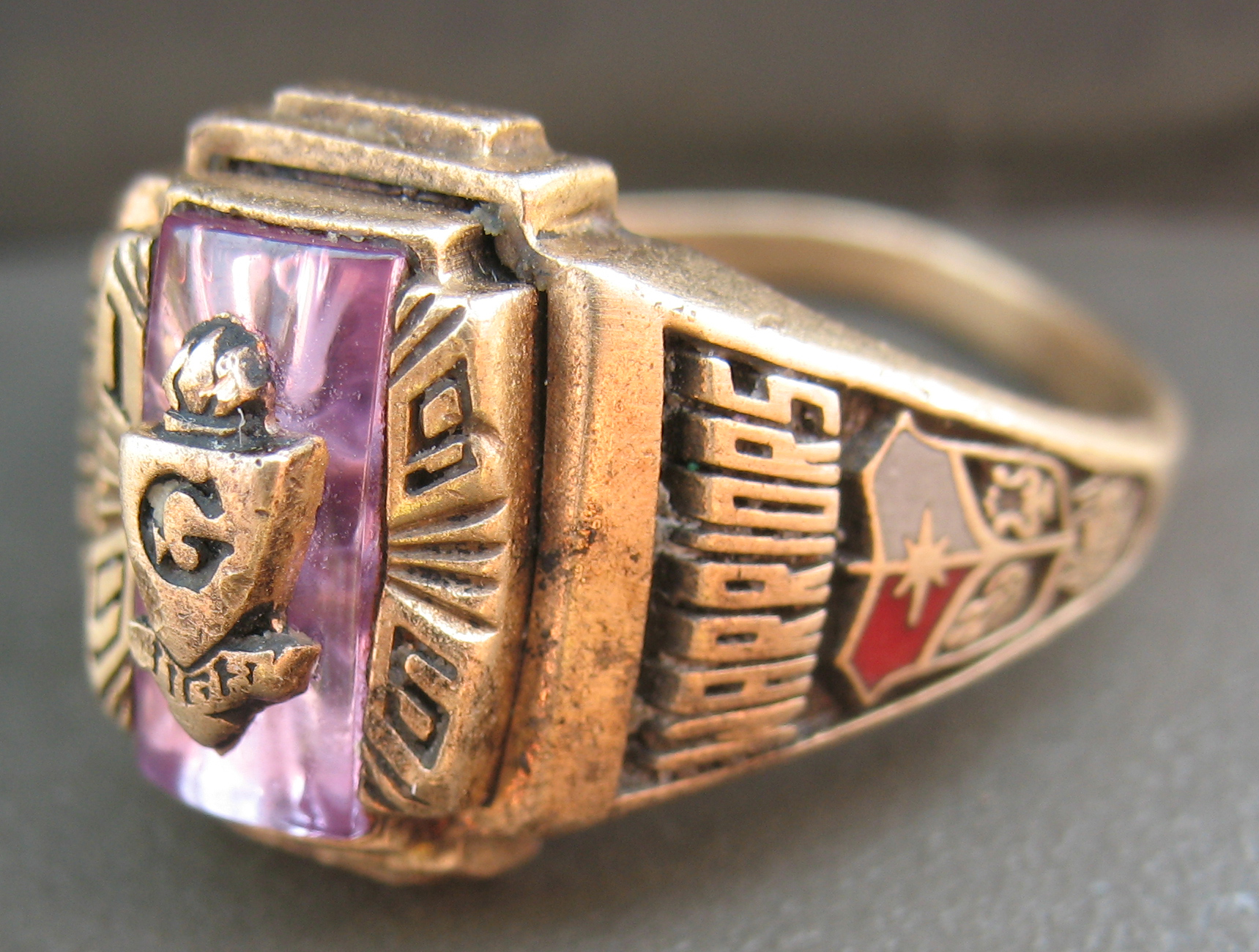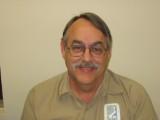 Scott Abrams Rahn Wuest
We have another lost ring story too. A realtor discovered a 1980 male class ring last year.
The inside initials are MLV. After a lot of research, it was discovered that no one with those
initials actual graduated that year. Someone bought a ring and then moved or dropped out. We
would like to be able to return the ring, so if you know of anyone with these initials who left
Goshen, please contact Joyce Croley at historian@goshenalumni.com
---
Homecoming 2012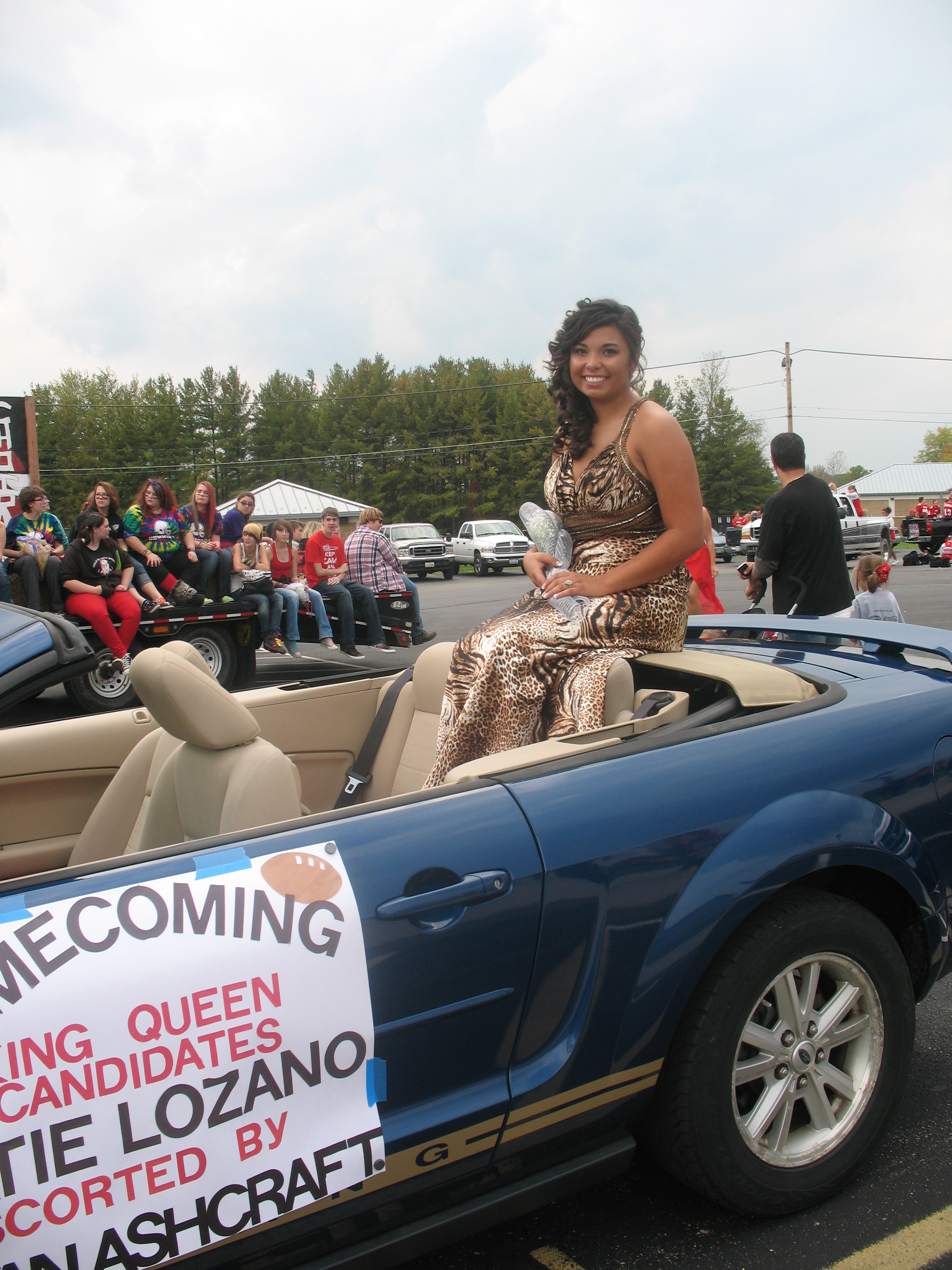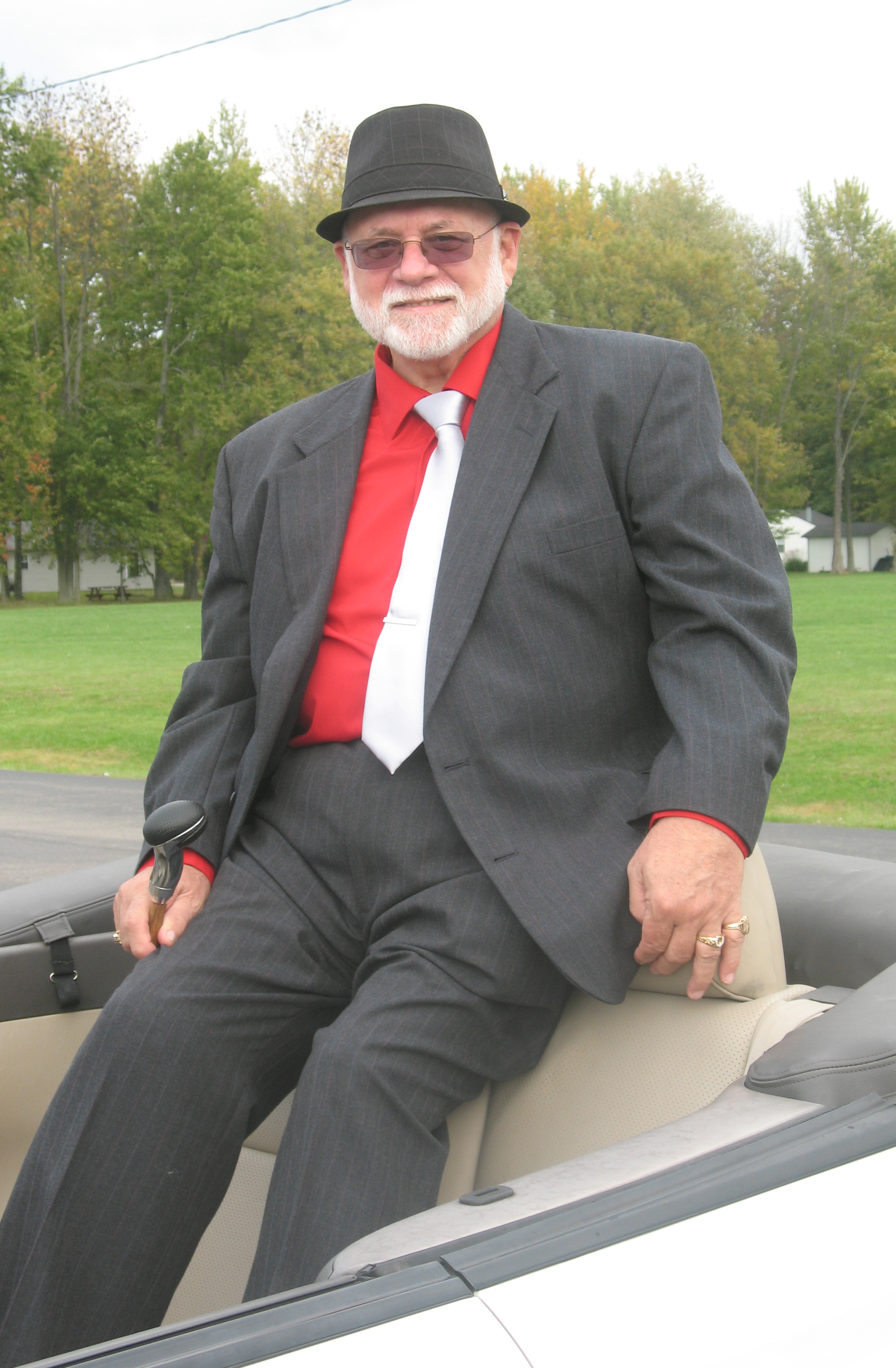 Queen Katie Lozano Grand Marshall Al Catauro
Click Link to see more 2012 Homecoming Photos
HELP HELP HELP HELP HELP !!
If you like to talk to people on the phone, we need help confirming new addresses for lost grads.
If you like to greet people, we need people to hand out pens and other alumni items at games and other events to make them aware of our group and web page.
If you can write, we need your help in composing articles for our web page and newsletter.
If you are creative, we need your talent in helping create, graphic and interesting pages for our webpage and newsletter.
If you can type, we have lists of grads that we need typed and saved in a file that we can upload to our web pages.
If you can scan, we have photos of classes and events that we would like saved in a digital format.
If you use facebook or myspace, we have a list of Goshen Grads that need contacted so we can update our database.
If you cook, we need your and your friends' recipes and help updating our Cook's Corner Web page. (Donating an appetizer for the friendship hour at the May banquet would be greatly appreciated too.)
If you feel good when you are a part of a wonderful organization, we need you when we nominate and debate about our yearly GHS Hall of Fame Candidates and Scholarship Winners.
If you can't make the meetings but would like to help on any project, just email Joyce Croley at
historian@goshenalumni.com
or contact any officer or member of the alumni association.
The Goshen High School Alumni Association is composed of a devoted group of Goshen Grads. However, we are a very small group and need help in accomplishing some of the projects we would like to achieve for our school and community. We are compiling class lists, updating our database, creating archives for each graduating class and then taking that information and creating class pages for all our graduation classes. We realize that it will take a long time to finalize these projects but we have made a good start. It would just go a lot faster if we had more individuals doing a little bit. So, if you have any interest or talent in any of the above areas, please contact the webmaster at
webmaster@goshenalumni.com
.
If you have a personal web page, the Alumni Association would like you to put a link on your page linking to the Goshen High School Alumni Association. (goshenalumni.com) The search engines send out "spiders" to search out links and webpages. The search engines then "rank" pages according to how many times a web site has been linked. We're trying to get enough links to be rated in the top ten results whenever anyone types in the word goshen or goshen high school. Now Goshen, Indiana or Goshen, New York usually pops up when you're trying to locate information on Goshen, Ohio. If you can help us get recognized, it would be a great help to the association. Thank you.
When we sent out our Spring Newsletter, we had a lot of envelopes returned. If you know any of these individuals, please contact the historian@goshenalumni.com with any information about their new location. Thank you.
1930 - 1949
Adel Solzman Stouder, John Ballman, Eunice Roudebush Weaver, Robert Sollman, Louie Philhower, Stella Wilder, Allen Dale. Osborn Denny and Fern Myers Keplinger, Harriet Rich Swigert, Mary Del Vecchio Parott, Dorothy Hobson Manning. Lura Yeary Bailey
1950's
Lillian Bunch Warren, Georgia Scalf Ellis, Pauline Sasnett Anderson.
1960's
Janis Bradley Emerson, Linda Maines Gray, Donna Forman Padgett, Margaret Forman Padgett, Mike Maschinor,Ed Illsley, John Smith, Linda Carman Smith., Donna Proctor Uzdavinis, Al Jones, David Lehmenkuler, Audrey Meadors, Joyce Lipps Martin, Donna Theresa Williams, Mike Maschinot, Buddy Adkins, Bill Brockman, Phil Ivan Bixler, Gail Sanders Castle, Ewell Brock, , Rita Bowman Stevens, Bill Hedger, Edward Thomas, Diane Ashcraft Seibert.
Suzanne Wright Arly, Elaine Mattox Polaski, Madeline Wisenhofer Madden, Nancy Watkins, Ester Oliver Hall, , Gary Smith, Mike Maschinot, Marilyn Norton Hopkins, Jerry Scheidt, Nancy Baker Balch, Doug Armstrong,, Scott Jeffries, Ray Rush, Connie Lee Bauer Zeinner, Gene Dennie Cox, Cherie Loudin, Mike Eldridge, Richard Davis, Edna Johnson Mullinex, Patricia Livengood, Vicki Ann Ayers Zoller, Donny Miller, Vicki Lambert Bower, Randall Patrick. Elmer Chambers, Don Brewer, Connie Bauer Zeinner
1970's
Jim Dorton, Sandra Clark, Pam Martin Howard, Jessie Berchtold Meeks, Richard Eadie, Debbie Mc Kinney McGlone, Harold and Zoe Applegate Sturgill.
Fred and Carol Litchfield, Frank Brandeberg, Bruce Sears, , Sheila Steart Hutsel, Julia Han Dague, Nicolas Maple, Joyce Strunk Henrixson, Johnny Oliver, Tawnia Duermitt,
1980
James Huff, Joe Allen Dale, Rod Phillips, Kim Page, Jim Parker, Gerald Wright, Phil Bradley, Denise Allen, Larry Bailey, Paula Harrison Stokes, Bill Thompson, Kelly Kuhn, Angel King,
1990
Matt Delavega, Joyce Redmon Shelton, Michael Pfeiffer, Larry Rapier, Shonna Snyder, Tina Weddle, Denise Allbecker, Jamie Lynn Brown, Chris Bell, Jason Kent Cornelius, Debra Sue Robbins Clayton, Michelle Conley, Denise Renee Klump, Leanna Sue Kibbey, Mykie Brinegar, Ryan Troy Compbell, Brandy Krauser, Amy Miller, Tara Appleby, Jeff Goehring, Lisa Hunt, Amy Jarvis, Mandy Johnson, David Knott, Jennifer Makstaller, Katrina O' Brien, Trina Poore, Shawn Robinson, Nicole Showalter.
Jennifer Dempsey Whitehead, Maria Jackson, Shelly Keyser, Jennifer Lay, Kasey Meadows, Valerie Judge Myers, Steve Philhower, Nick Richmond, Charlie Hodgson, Shirley Jones, Star Ross, Jaime Standifer, Chris Meadors, Crissena Burgin, Joe Dalrymple, Tony DeOuch, Rob Grevas, Jeff Hinners, Sarah Litfin, Jason Lapp, Jaime Patrick, Cindy Mummert, Eric Peller, Billy Schalk, Rachel Stone.
Jennifer Riley Davidson, Lesley Eckart Hogue, Margie Eglian Lykins, Tammy Justice, Shandra Tasch Doughman, Rick Blevins, Krystal Steele, Jackie Challis, John Clark, Carla Hall, Robert Nace, Nick Ventura, Jesse McVey, Chris Price, Jason Shull, Carissa Meyer, Corliss Embus, Nathan Litfin, Steven Chun, Karen Brotherton, Matt Bonweg, Art Barger, Lunn Reynolds, Marie Falk Hargis, Scott sneed, Carl Ackerman, Robert Meyer, Jessica Gardner Meyer, Kenneth Allen, heather Steele, Keith Koller, David Sharp
2000
Kevins Downs, Steve Foley, Jessica Fields, Christian Fazzio, Amber Gregg, David Hedger, Erik Jackson. Amanda Jones, Robert Keyser, Julie Malsbary, Amanda Matlock, Allen Moore, Lori Mansfield, Eric Newsome, Michelle Peller, Amy Phillips, Justin Porterfield, Tiffany Richardson, Sean Rosic, Daniel Reisert, Danny Simpson, Daniel Smith, Dalesea Stephens, Kristy Smith, Billy Vanname, Kendra White, Steven Wilson.
2001
Randall Bader, Eric Berling, Melissa Bernhard, Tim Brunker, Tracey Brown, Krystal Buckley, Greg Boland, Shaun Campbell, Travis Cooper, Amy Eustice, Jennifer Feds, Ben Finkhousen, Cameron Gulley, Ken Guy, Cassandra Harris, Amber Heider, Traci Huxel, Kelly Hinners, Kristy Jarvis, Jessica Johnson, Krissie Laib, Dan Land, Kristi Meier.
2002
Ken Anderson, Tellessia Berling, Stacey Billow, Carrie Brown, Cory Brooker, Erica Funke, Steve Greger, Brian Hans, Rene Janssen III, Sarah Hoerr, Joy Keen, Abigail Lunsford, Erin Martin, Chris Monk, Marcus Moore, Marcus Nachazel, Shane Newman, Chris Pauley, Becky Payne, Kelly Phillips, Anthony Rose, Chris Roesch, Matt, Royster, Mike Salyers, Andrew Simpson, Kevin Smith, Chris Standifer, Daniel Stoneburner, Nicole Snider, Brian Telinda Jr, Alicia Vineyard, Debra Veite, Amy Wilson, Kristy Woodrey, Richard Wagner, Josh Zike, Tabitha Ziggas, Steve Zapolski.
Goshen High School Valedictorians
2012 Tatiana Francisca Hernandez
2011 Nicholas Storm Huffaker
2010 Alisha Ann Chess, Nathaniel Joseph Godby, Kimberly Denice Harris
2009 Kelsey Gaffney, Amanda Simms, Brooke Whitley
2008 Richard Godby, Kimberely Steele, Rebekah Winterberger
2007 Justin Dean, Tosha Jump, Matthew Parriman, Katelyn Stephens, Katherine Strauss, Savannah Sullivan, William Tedrick
2006 Sarah Balcomb
2005 Andrew Fite, Amanda Tedrick
2004 Melissa Caddell, Lauren Cunningham, Jacob Dean, Rachel Delk, Stacey Fehrman, Korinn Flem, Codie Hudson, Amanda Hughes

2003 Danielle Duncan, Chris Smith

2002 Melissa Alexander, Carrie Brown, Adam Gabbard

2001 Jennifer Anderson, Rachel Burns, Holly Gray, Jessica Hudson, Krissie Laib, Matt McGrath, Lea Shultz

2000 Amy Inabnitt, Anna Long

1999 Colin Kelley

1998 Rebecca Arbino, Kristi Engel, Lisa Flacke

1997 Jessica Slusher, Brandy Stringer

1996 Beth Chaney, Nathan Long

1995 Jennifer Phillips, Todd Wilcher

1994 Jennifer Carmichael

1993 Amy Christman

1992 Renee Nierman

1991 Christina Denney

1990 Matthew Gardner or Elaine Drew

1989 Dawn Hornsby

1988 Cathy Jo Pelosi

1987 Tim Dennison

1986 Joel Chaney

1985 Timothy Barnett

1984 Walter Moeller, Christopher Threm

1983 Nova Manske

1982 Dieter Moeller, Barbara Morris

1981 David Cameron, Donice Jewell

1980 David Keenan, Doug Keenan

1979 Darla Christman

1978 Mary Bauer, Natalie Goodwin, Denice Spray

1977 Jim Giglierano

1976 Barb Floyd, Greg Miracle Bobbi Grossnickle, Susan Hargis

1975 Carole Kersker

1974 Audrey Dotson

1973 Jim Koch

1972 Dianne Rhein

1971 Joe Giglierano

1970 Dale Copen

1969 Donna Thersea Bingham

1968 Barb Vaughn

1967 Danny Daniel

1966 Marianne Kelly

1965 Kathy Simon

1964 Sharon Pinkerton

1963 Meredith Simon

1962 Steve Alley

1961 Marian Mindum

1960 Warren Craig

1959 Naomi Yeary

1958 Phyllis Edwards

1957 Lawrence Moore

1956 Gene Childress AND/OR Joan Steele

1955 Don Edwards

1954 Paul Yeary

1953 Mary Goodwin

1952 Paul Moore

1951 Gordon Howard

1950 Mary Ann Fox

1949 Christine Moore

1948 Dorothy Pray

1947

1946

1945 Mary Sue Brandenburg

1944

1943 Gloria Ash

1942 Faith McHenry

1941 Elsie Ferree

1940 Warren Wilder
Goshen Local School district began in 1887.
Currently we do not have the names of valedictorians from 1887 to 1940.
Please contact Hillary Gatio at gatioh@goshenlocalschools.org (513) 722.2227 ext. 2060 or
Joyce Croley at historian@goshenalumni.com regarding questions about this list. Thank you!
Goshen Grads Doing Good Works!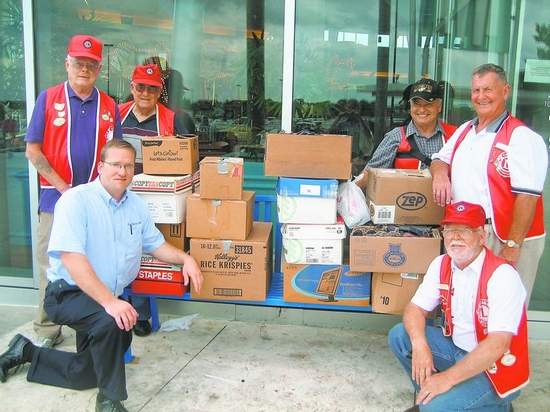 Joe Spaulding '52, Charlie Scheldt, Andy Evans, Lou Clemens'65, Bill Smith '58 and Carl Seigla'55
were recently pictured in the Cincinnati Enquirer for their hard work for the Goshen Lions Club and
their donations to the Lenscrafter Eyeglass Program. Congratulations on all the hard work you guys
are doing for our community.